Customer experience management is the new Sexy.
The Qualtrics XM Institute surveyed 200+ companies and summarized their main findings of customer experience (CX) in their new research, The State of CX Management, 2019:
 1. 81% of respondents plan to increase their focus on CX over the next 12 months;
 2. 71% of CX Leaders delivered a positive business impact on their organization's financial performance over the previous year;
 3. Although CX became common sense, only 6% of respondents have made it into Scale or Embed, the top two stages of CX maturity which The Qualtrics XM Institute has identified six experience management (XM) Competencies into LEAD, REALIZE, ACTIVATE, ENLIGHTEN, RESPOND, and DISRUPT.
It's no doubt that CX contributes to business development with a positive impact. However, it's rarely common to see businesses are still on the exploring phrase in terms of CX planning and experience management, especially for those big businesses with complicated organizational architecture owning multiple product lines and service chains. Along the road of maximizing the impact of CX, businesses are encountering challenges typically listed underneath:
 1. It's difficult to measure customer satisfaction when they interact with a product or a service, which leads to a longer period to address the issue and take action;
 2. The gap between CX measurement and business growth validation costs inefficiency measurement in the overview business' success;
 3. Although a user experience (UX) team is the main CX generator in a business, it requires internal collaborations in business throughout the entire process of UX design. From identifying the CX problem, narrowing down the UX problem, measuring the impact of CX, the lack of employee experience (EX) management will cost a business in productivity and talent retaining.
Customized XM system is all you need.
With years of experience in authentic UX practice, ETU now officially launches E.E.A.S.Y. program to assist your business's long-term success.
01
What is E.E.A.S.Y. program?
E.E.A.SY. is short for ETU Experience Administration System. It's a program designed to help a business to better generate growth and success.
To achieve business growth, XM navigates big businesses among complexities on the external perspective of a single product/service experience, as well as the internal perspective of product lines and service chain management. E.E.A.S.Y. program rises to help businesses to establish XM to leverage data-driven product innovation and the complex product development system management. Compared to an entry-level XM system that only focuses on a single product delivery, E.E.A.S.Y. program aims to maximize CX impact by empowering businesses to deconstruct CX into a measurable UX action plan in their product ecosystem.
02
Framework of E.E.A.S.Y. program
In a business' innovation chapter of CX and XM development, E.E.A.S.Y. program participates to discover overall challenges and pain-points in UX planning, UX delivery measurement, and cross-department collaboration EX. With our over-years UX project experience, we propose a UX Execution Model, Data Model, and two types of UX data (qualitative sensory type and quantitive status type) for dynamically receiving customer feedback to a business and their product/service, validating the transaction efficiency 
from CX to business growth, and establishing CX R&D troop with proper team structure 
and delivery workflow.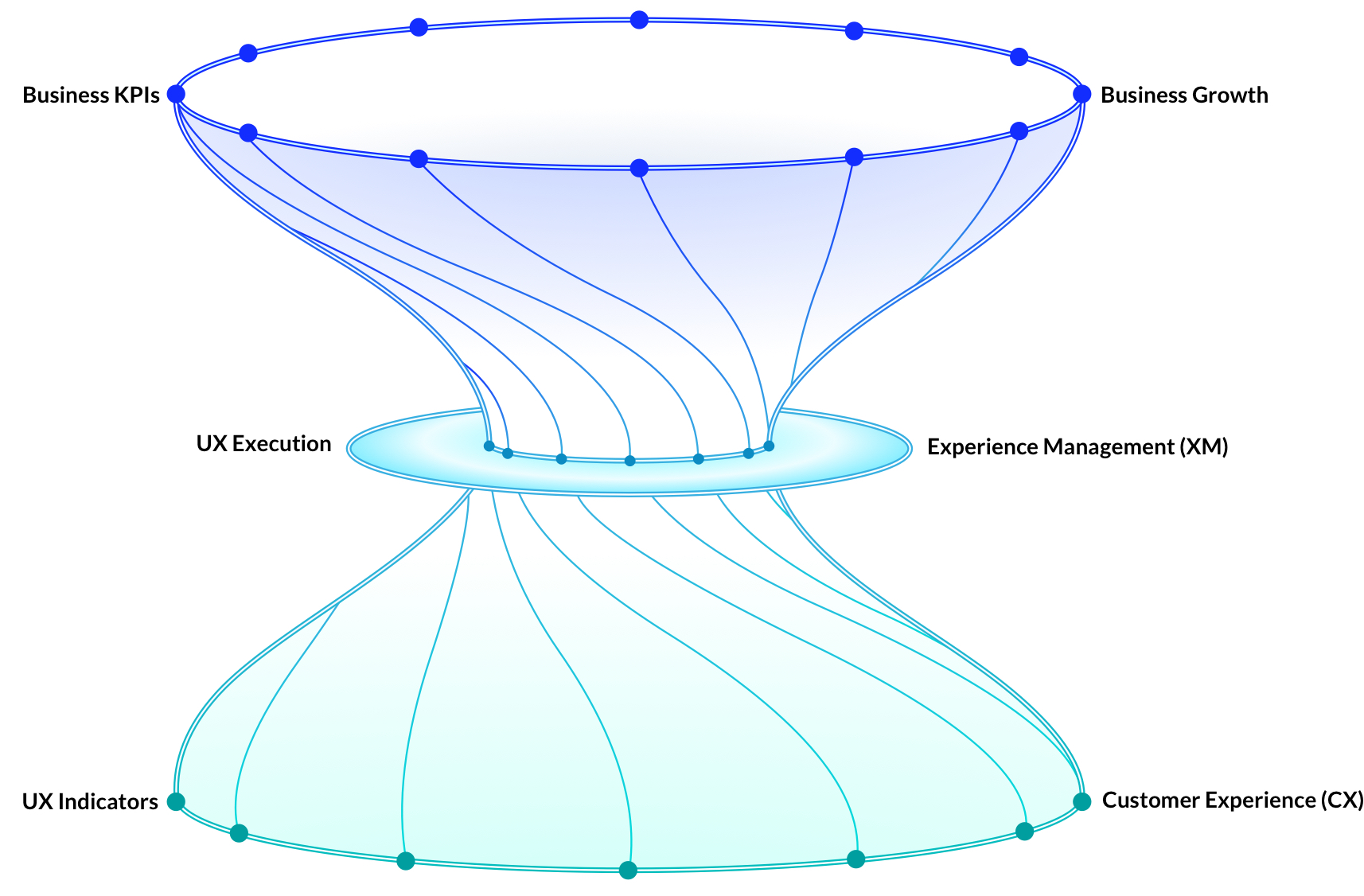 03
Goals of E.E.A.S.Y. program: Quantify. Optimize. Innovate.
Based on our UX execution model, we summarized an XM solution into four steps: UX Diagnosis, UX Monitoring, Procedure Mechanism, Methodology Empowering.
1. From Quantify to Optimize: UX Diagnosis and UX Monitoring for dynamic XM evaluation
In this stage, we mainly help a business to complete UX diagnosis and examination. We start with understanding the business growth goals and current status of XM. Then we set up XM goals that refine and quantify the executive level management goals to further align XM goals to the business future success. As to delivery, we make sure a true connection between UX iteration and Success Measurement.

 ① Actions related to UX Diagnosis: Business Strategic Goals Understanding; XM Status Diagnosis; XM Development Blueprint; XM Setup Planning…
 ② Actions related to UX Monitoring: Business Success Metrics Setup; Digital Monitoring Tools Planning…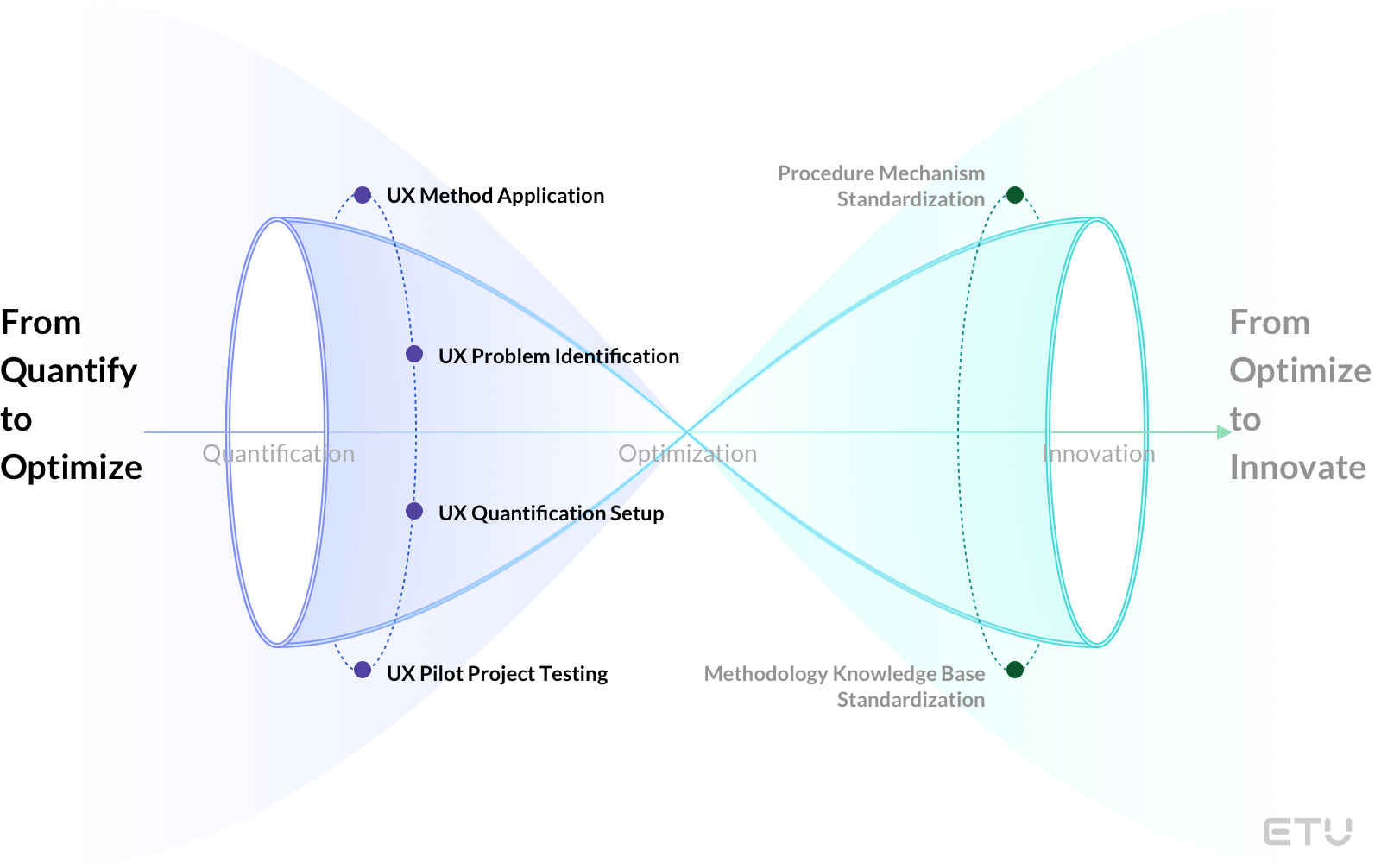 E.E.A.S.Y. Data Model
Throughout the entire transaction from Quantification and Optimization, Customer perspective is the key in the UX examination. Based on Customer Experience (CX) Life Cycle and Customer Journey, we leverage two types of UX data (qualitative sensory type and quantitive status type) to monitor the transaction efficiency of UX converting growth.

In the processes of UX Diagnosis and UX Monitoring, businesses will internally share the XM goals, identified XM problems and XM opportunities. We visualize the CX Life Cycle and Customer Journey along with both current running product/service advised future touchpoint experience based on the opportunity research of Key Process, Deal Breaker, Motivation Factors. Thus, to each touchpoint experience, we advise a specific team (such as Product/Design/Operation/Business/…) with their KPI priorities in each category (such as operational indicator, functionality indicator, business indicator, financial indicator and so on). What's more, we set up phrases to help businesses run and test out the UX pilot project to consistently and dynamically validate the success of the XM system iteration.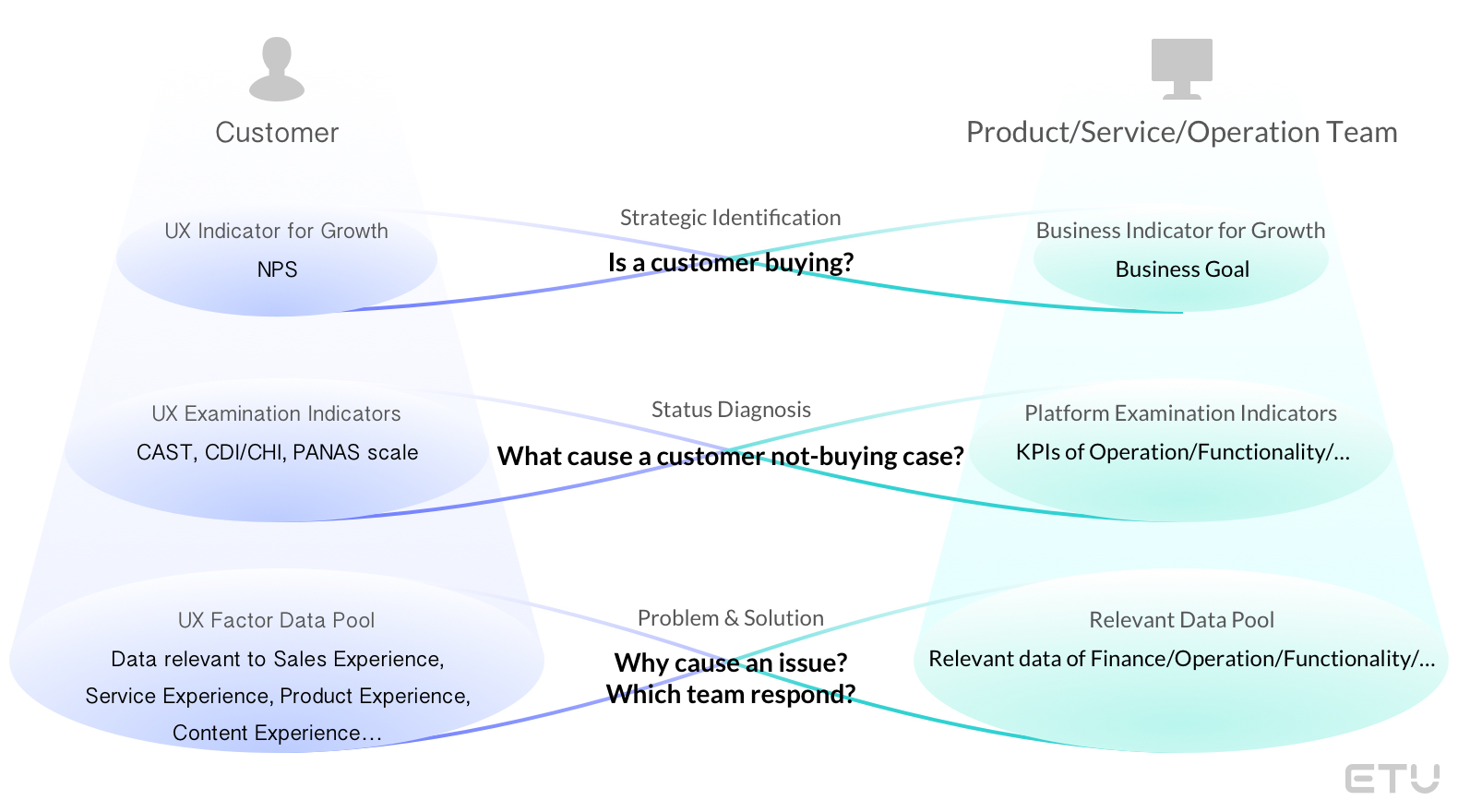 2. From Optimize to Innovate: Procedure Mechanism and Methodology Knowledge Base for consistent value creation.
On the second half, after UX Quantification is done, relevant indicators setup and pilot programs start running, to maximize the impact of UX and accelerate XM collaboration across departments, we focus on the business internal standardization. According to each product/service characteristics and situations, we provide consultant on standardization blueprint to complete XM iteration in actionable phases. Also, establishing a methodology knowledge base and design resource library helps businesses build up a rationale to further promo and process the UX work internally.

 ① Actions related to Procedure Mechanism setup: UX Decision-making Management; UX Monitoring Action After Review (AAR); UX Design Management…
 ② Actions related to Methodology Knowledge Base setup: Research Methodology (eg: Persona Library); Product/Service Scenario Library; UI Toolkit; Internal Workshop…